Understanding Urologic Pain
Bladder pain is widely misunderstood and can be difficult to treat
Most urologic pain is caused by interstitial cystitis (IC)/bladder pain syndrome (BPS), which is a chronic bladder health issue characterized by pain and pressure in the bladder area, and symptoms in the urinary tract that persist longer than 6 weeks. Awareness and understanding of urologic pain are important to spread as it is difficult to diagnose and treat.
What can cause urologic pain?
Experts still don't know exactly what can lead to IC/BPS, however, there are many possible theories. Most of the theories include something causing irritating substances to leak into the bladder and causing inflammation. Some theories that could lead to bladder inflammation include a defect in bladder tissue, a specific inflammatory cell called the mast cell. Other causes include changes in the nerves that carry the bladder sensations, or the immune system attacking the bladder. In some cases, a family history of IC/BPS can increase your risk. 
Symptoms can range from mild to severe. Comorbidities with urologic pain could include irritable bowel syndrome, fibromyalgia, and other pain syndromes. It may be time to see a urologist if you're experiencing the following:
Pain while urinating or during intercourse

Trouble urinating (peeing), including getting started or having a strong flow of urine, pain, cloudy urine, or blood in the urine

Frequent urination 

A feeling that something is falling down into your vagina or heaviness in that area

Pelvic pain

Urinating when you don't want to, like at night or when you sneeze, laugh or exercise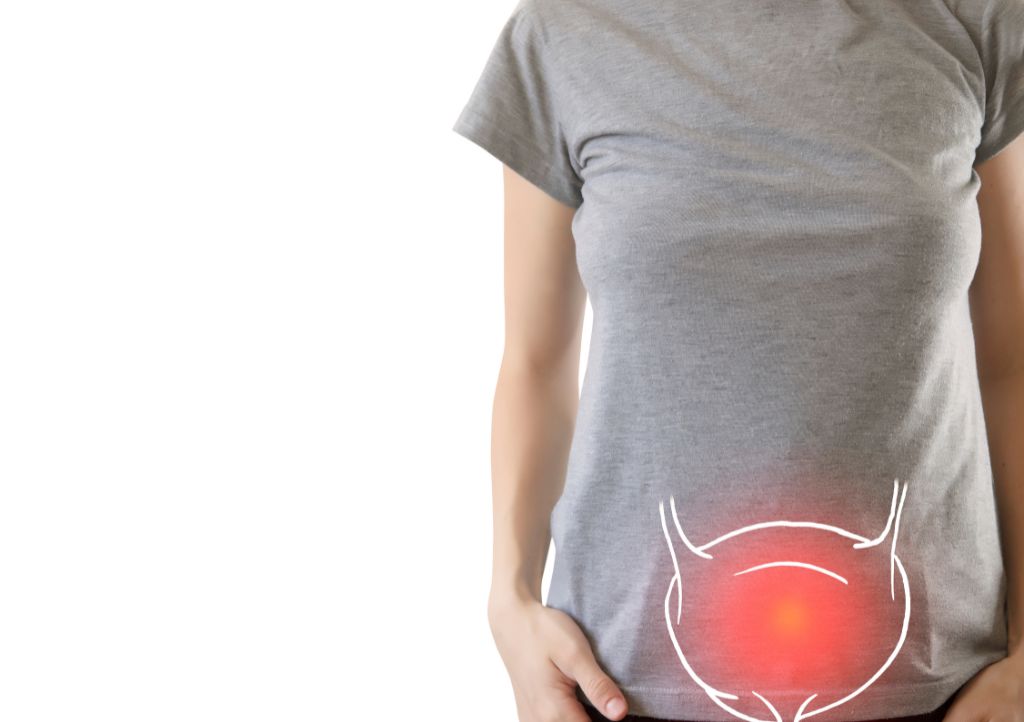 What types of tests can determine the cause of your urologic pain?
Physical examination
Physical examinations are different between males and females. Men may get a rectal exam, and women may need a pelvic exam.
Urinalysis
For this test, you provide a sample of your urine, blood or semen, and your doctor examines them in a lab. This is ordered when they are looking for something specific.
Diagram of Cystoscopy
In this test, your doctor examines the inside of your bladder. This test can rule out other problems such as cancer, and can see if you have any ulcers.
Baseline Pain and Voiding Tests
During this test, the bladder is filled with water through a small catheter so that bladder pressures can be measured as the bladder fills and empties. On top of bladder pressure, bladder capacity is also measured during this test, and your doctor can determine if you feel pain while your bladder is filling.
Chronic bladder irritation and infections

Urinary infections, kidney and bladder stones, bladder catheters left in place a long time, and other causes of chronic (ongoing) bladder irritation have been linked to bladder cancer (especially squamous cell carcinoma of the bladder). But it's not clear if they actually cause bladder cancer.
How can you treat bladder pain?
Since urologic pain can be caused by many things, and it can present differently in everyone, no single treatment will work for everyone. Treatment must be chosen for each patient based on symptoms. Patients usually try different treatments (or combinations of treatments) until good symptom relief occurs. Pain may never go away, but long remission and significant relief can be achieved with treatment. If symptoms persist, the treatment becomes more aggressive.